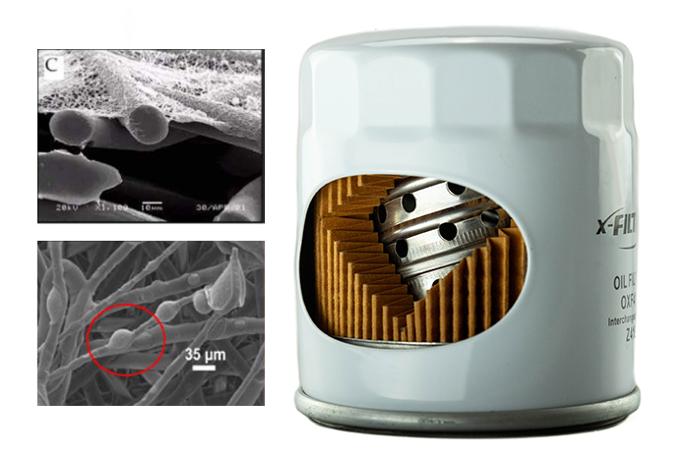 Premium Material
X-Filtra™ Oil Filter (Spin-on) uses 100% synthetic premium-quality Ahlstrom® oil filtration media (superior filter media to achieve 99% filtration efficiency), combined with glass fibre curing filter and steel/rubber (Teflon-coated) from world-renowned suppliers to ensure high performance and long usage life.

Superior Quality
X-Filtra™ Oil Filter (Spin-on) is engineered by prestigious manufacturers and built under state-of-the-art automated production and advanced manufacturing techniques. They undergo rigorous testing (e.g. efficiency, sealing, dust/temperature/salt tolerance) and multi-step quality control as recognised under global standards including IATF 16949, OHSAS 18001:2007, and QS 9000, among others to ensure superior quality and performance.

Solid Protection
X-Filtra™ Oil Filter (Spin-on) uses filter paper with nanofiber layers for high filtration accuracy, long life, and proven performance in efficiency, flow resistance, dust holding capacity, that match with OEM standards. Other than protecting your vehicle's engine against oil oxidation and preventing impurities from mixing with your engine oil, its high temperature tolerance and stable performance also help to optimise and extend engine lifespan.

Also interested in Cartridge Oil Filter?
Mechanical Precision
X-Filtra™ Oil Filter (Spin-on) is manufactured with mechanical precision to match with OEM standards and is specifically engineered to fit your vehicle. Its durable steel base plate and housing ensures good fit and prevents leaks and warpage. Essentially, it is verified and tested in Australian road and weather conditions, ensuring the best performance for your vehicle.

New Car Warranty
X-Filtra™ Oil Filter (Spin-on) uses precise OEM specifications that meet the requirements of manufacturer's warranty as 'appropriate quality parts', so you can guarantee that it will not void your vehicle's warranty.

Environment Sustainability
X-Filtra™ Oil Filter (Spin-on) is manufactured under an environmentally-sustainable production process that is certified by ISO 14001 and utilises materials that are recyclable, as the steel and residual oil in our oil filter can be repurposed with a special process at used oil collection centres and metal recyclers.